Five preconditions for a deadly counter attack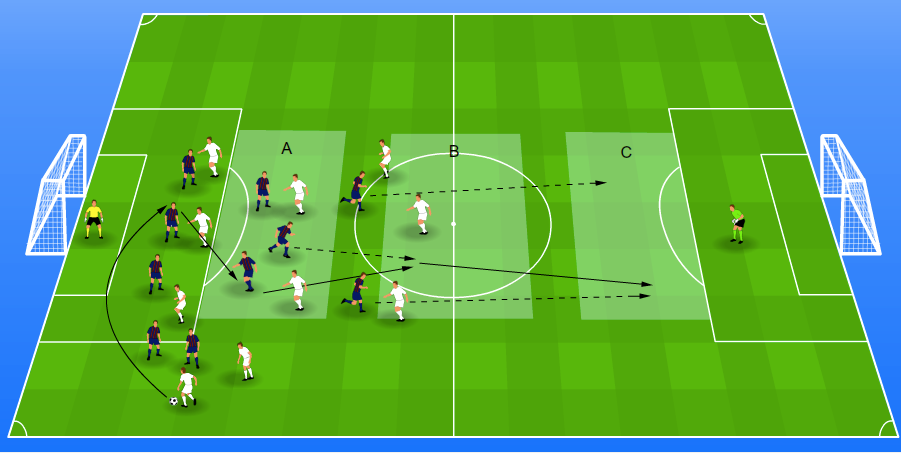 Many coaches would describe their ideal goal as a spectacular finish from a patient build-up, with a lot of players involved in the attack. On the other hand, a goal from a fast counter attack can be very attractive too. And very effective. How can you facilitate your team in creating a lot of chances from counter attacks? 
1. Space behind the opposition defense
Without a lot of space in front of the goal keeper, it is very hard to create big chances. By defending in a low block, you'll pull the opponent forward towards your half. That creates space to penetrate in behind after winning possession. 
2. Players intercepting passes in good locations
Obviously, the worst way to win back possession is with a kick-off, because the opponent scored. But also a goal kick or an interception of a cross by the goal keeper is not a great starting point for a counter attack. Moreover, winning possession in the middle of the pitch creates more options for fast counters than recoveries on the wing. Every good counter attacking team needs a N'Golo Kanté to win possession and pass forward immediately. 

3. A good structure when the ball is won
A lot of coaches put a lot of emphasize on a good rest defense when attacking. In contrast, the rest offense when defending isn't one of the main topics they focus on. Every good team needs their best counter attacking players on positions on the pitch to be able to create chances. Paris Saint-Germain is a good example of a team that puts this transition principle into practice. Ángel Di María is often able to find Kylian Mbappé with through passes. 

4. Immediate vertical passing
The biggest advantage of winning possession is the disorganization by the opponent. Full backs play high up the pitch, midfielders are out of position and the mutual distances are big. To benefit from it, counter attacks need to be fast, otherwise the opponent will reorganize into their defensive shape and get a lot of players behind the ball. To win valuable time, the first pass should - whenever possible - be played forward.

5. Off the ball runs in behind the defense
Counter attacks have in common that they are executed in bigger spaces than common attacks. The horizontal distances between defender sand the vertical distances between lines are much bigger in the defensive transition than in the defensive phase. This creates very good opportunities for players to make runs in the space between the defensive line and the goal keeper. Ideally, this leads to big chances from 1 on 1 situations.

Training drill
An example of a drill to improve counter attacking is the Dutch national U16 exercise below (click to view). A 3v2 + 2GK overload evolves into a 4v3 + 2GK in the counter attack.